Sophie Mathieu is one of eight Resident Composers selected for the 2023 Mizzou International Composers Festival from among 500 applicants, 28% from outside USA representing 49 countries.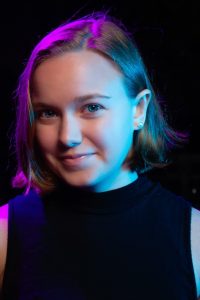 Sophie Mathieu is a composer and cellist based in Austin, TX, currently pursuing a master's degree in composition at the University of Texas. Sophie completed her undergraduate studies in composition at the University of Southern California. She currently studies with Omar Thomas, and her previous teachers include Ted Hearne, Andrew Norman, Donald Crockett, Yevgeniy Sharlat, and Russell Podgorsek.
Mathieu's work is ethereal and textural, exploring the concepts of vastness and timelessness and the intersection of beauty and danger in the natural world. She has collaborated with ensembles including yMusic, line-upon-line percussion, and andPlay, and she recently earned an honorable mention from the ASCAP Morton Gould program for her orchestra piece, moons.
As a cellist, Mathieu is passionate about bringing the works of living composers to the forefront. She frequently performs in works by her fellow composition students at UT and regularly appears with UT's New Music Ensemble. She also loves exploring non-classical genres, such as pop, jazz, and film music and has performed and recorded at Walt Disney Concert Hall, Capitol Records, the Nief-Norf Summer Festival, and the Clint Eastwood Scoring Stage. Additionally, Sophie loves early music and studied baroque cello and viola da gamba during her undergraduate studies, receiving the Colburn Scholarship in Early Music Performance for her work with USC's Baroque Sinfonia.
In addition to composing and performing, Sophie teaches composition, cello, and chamber music, and is the Youth Director at Golden Hornet. Outside of music, Sophie enjoys cooking plant-based food, playing Sid Meier's Civilization V, and watching psychological horror films in her free time.
For the MICF, Mathieu has written a new work, whelm (2023), which will have its world premiere on July 29 at 7:30 pm at the Missouri Theater. The concert will feature Alarm Will Sound playing world premiere performances by Resident Composers.
You can hear samples of Sophie Mathieu's music on his website.