Kelley Sheehan is one of eight Resident Composers selected for the 2023 Mizzou International Composers Festival from among 500 applicants, 28% of which are from outside the USA.
Sheehan is a composer and computer musician moving between electro-acoustic, multimedia, and performance-art works. In any medium, her work constructs environments meant to merge electronic and acoustic forces into one composite organism, dependent on this merging to become more than just an extension of itself.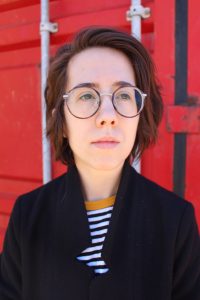 It has been described by composers Iannotta, Kyriakidesas & Stäbler as "Full of discovery, collaboration, and unpredictability" with "woozy electronics." She was named prize winner of the Gaudeamus Award 2019, laureate of the 2025 IMPULS Composition Competition, recipient of a 2022 Hildegard Commission, awarded first place for the 2020 ASCAP/SEAMUS commissioning competition, and the 2023 John Green Prize, among others.
When not composing, Sheehan is an avid improviser on self-made DIY electronics, no-input mixer, her AI-electric guitar hybrid called "other machines," or modular. She has performed at such venues as the Banff Center for the Arts, the Art Institute of Chicago, and the Goethe Institute of Boston. Upcoming projects include works for Klangforum Wien, a premiere at the Darmstadt Summer Courses, and a residency at EMPAC with Hoodwink.
She is ABD (all but dissertation) at Harvard University, having studied with Chaya Czernowin and Hans Tutschku. Sheehan is currently teaching and conducting research as a Post Doc in Music Technology at the Smith Music Department. Her research has led her to study with composers of various interests such as Sivan Cohen Elias, Marcos Balter, and Fredrick Gifford.
​For the MICF, Sheehan is presenting splitting to collapse, which will be performed on Saturday, July 29 at 7:30 pm at the Missouri Theater. The concert will feature Alarm Will Sound playing world premiere performances by Resident Composers.
You can hear samples of her music on her website.