Last Wednesday, three University of Missouri School of Music students found out what it is like to have their work performed by the St. Louis Symphony Orchestra at Powell Hall.
For seniors Sam Whitty and Jack Snelling and graduate student Santiago Beis, the concert was the culmination of a process that began last year when they were selected to participate in the annual composer's workshop which is a collaboration between the SLSO and the Mizzou New Music Initiative and is funded by the Sinquefield Charitable Foundation.
Next was a session last fall in which their compositions' early drafts were critiqued by Richmond (Virginia) Symphony associate conductor Chia-Hsuan Linas well as the SLSO's librarian, Henry Skolnick, and members of the orchestra. They finished their final drafts last month and Wednesday had a brief rehearsal with the SLSO and its assistant conductor, Stephanie Childress, followed immediately by the concert.
"It's a dream come true for sure," said Snelling, who is a former member of the St. Louis Symphony Youth Orchestra. "The caliber of these musicians is something I've never seen before," added Whitty. Beis said he appreciated the chance to work with "wonderful professionals" and to hear his work performed at Powell, where sound reverberates in different ways than he is used to.
Whitty's piece "Contrarian" was performed first. The title, he said, reflects his fondness for "throw(ing) ideas against each other and then completely switch, like a light switch." Beis said that his piece, "Spletna," is a Czech word meaning "entanglement." Snelling's "Three Scenes from Ninety-Four," was inspired by driving on Highway 94, which runs alongside the Missouri River from St. Charles to Jefferson City.
Before the concert, Childress flipped through the three scores and commented on each. "I'm really impressed with the level," she said. "Jack's imagination for 'Three Scenes from Ninety-Four' is really wild and incredible and very picturesque. Santiago's 'Spletna' is very… I wouldn't say ambient, but he really has a feel for rhythm and a more kind of abstract way of looking at rhythm and composition. And for 'Contrarian,' Sam has a beautiful use of harmony and of tonal palettes. It's a very impressionistic piece and I'm very interested to see where that takes him."

MNMI Artistic Director Stefan Freund said, "We've always had successful collaborations (with the SLSO). I've never been disappointed with any of the pieces. The students have always done a great job and of course, the orchestra does a fabulous job. This year was really exceptional, though, in terms of the quality of the works from the beginning all the way through to the end tonight."
Childress, meanwhile, articulated why the MNMI/SLSO collaboration is an important one.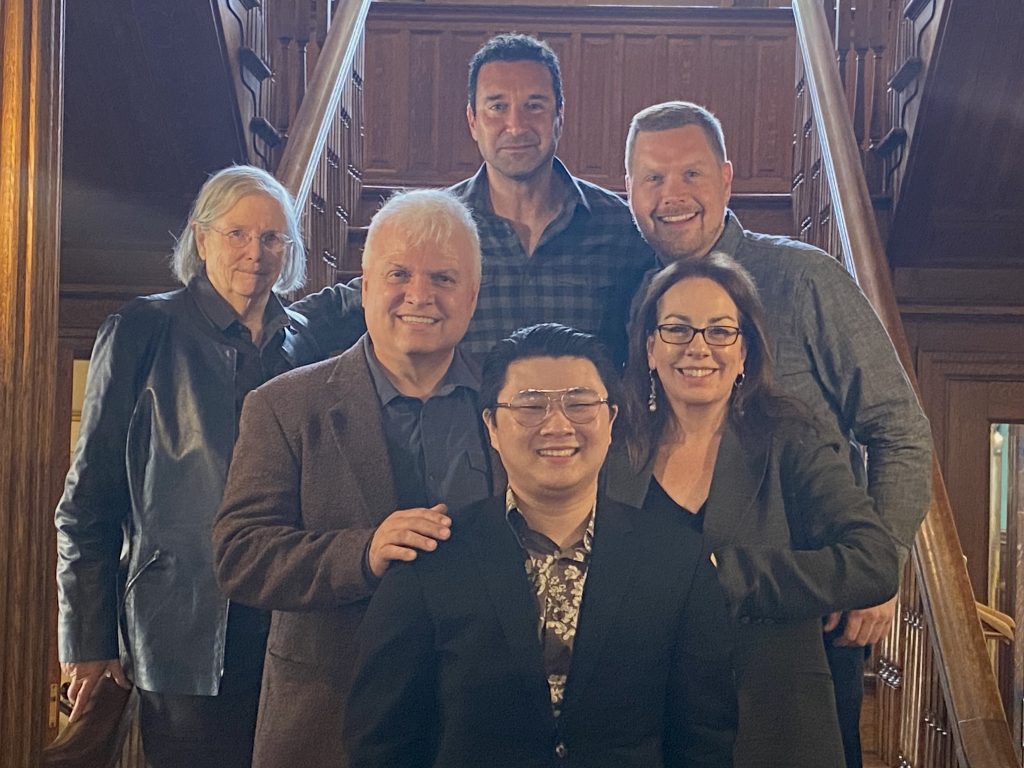 "It's important because we get to nurture new talent," she said. "Even from last year's workshop, I met the composer Oswald Huynh, absolutely fell in love with his music, and decided to program his piece Gia Đình for my subscription concert (which took place on Saturday).
"That's already quite a connection that's been formed just through this workshop," she added. "So, the ability to nurture new talent, help them move forward in their education, getting to hear their pieces live with a great symphonic orchestra, I think, is something that a lot of composers only dream of."