Duo Axis, the dynamic pairing of flutist Zach Sheets and pianist Wei-Han Wu, will be in residence from October 20-21, 2023 at the University of Missouri School of Music. The Duo Axis residency is funded by the Mizzou New Music Initiative (MNMI) and the Sinquefield Charitable Foundation.
During the residency, Duo Axis will perform in concert at 7:30 p.m. October 21 in Sheryl Crow Hall. A highlight of the program is a performance of former University of Missouri School of Music faculty member Carolina Heredia's composition, pruning.
While at Mizzou, Sheets and Wu will give a presentation for the School of Music's composition seminar. They will also give a private coaching session for the Mizzou New Music Ensemble.
As Duo Axis, Sheets and Wu present vibrant performances of music both new and old, performing throughout the United States and Europe in recitals, teaching engagements, and community-based events. Duo Axis frequently work closely with composers to create new works and foster a spirit of innovation. Sheets and Wu are also members of the acclaimed [Switch~ Ensemble], a group that has performed several times at Mizzou.
Sheets and Wu began collaborating in 2014 as Duo Axis, and have received funding from the Copland Fund, Ditson Fund, Koussevitzky Foundation, Barlow Endowment, and more.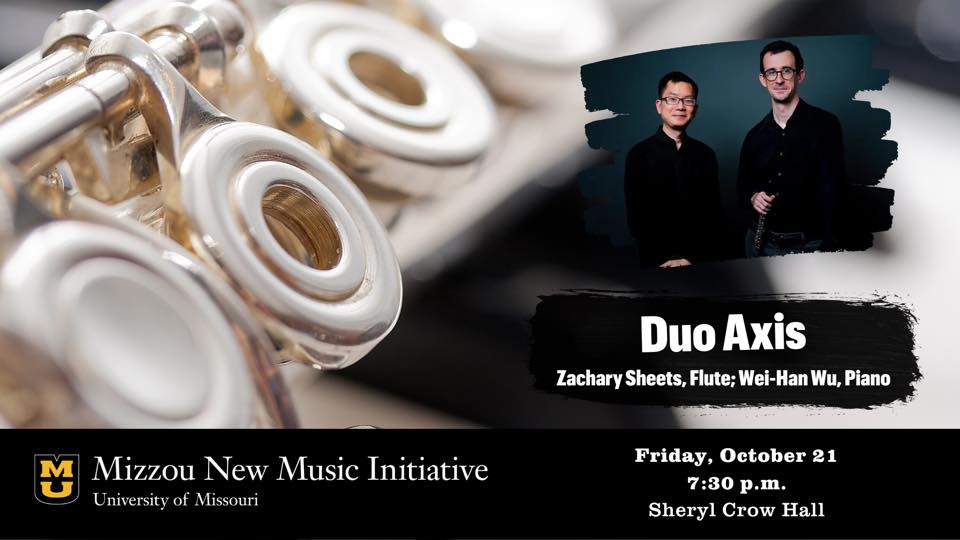 Here is the program for the October 21 concert:
Alex Stephenson: Adrift (2022, 12′)*
Tania León: Alma (2007, 6′)
Carolina Heredia: pruning (2021, 12′)*
Christine Burke: My simple measured steps have brought me here (2022, 13′)*
Anthony Cheung: Axis Mundi (2022, 13′)*
*Indicates Duo Axis commission. Carolina Heredia's work, pruning, was written for Duo Axis and commissioned by the Barlow Endowment for Music Composition at Brigham Young University.
The concert is free and open to the public. For those unable to attend, the concert will be available to view on MU School of Music YouTube.