The Mizzou New Music Initiative is inviting young composers from all across Missouri to take part in the 2023 Creating Original Music Project (COMP).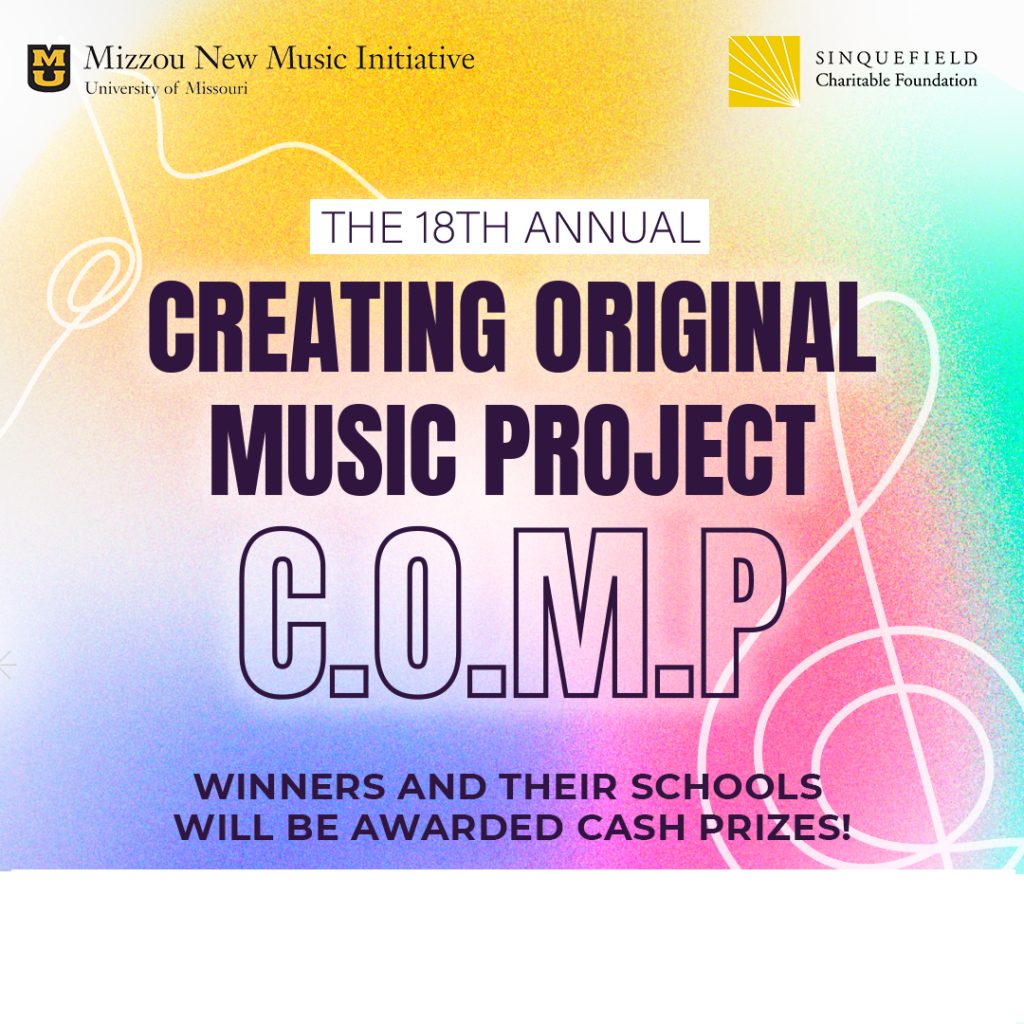 Now in its 18th year, COMP is an annual statewide competition sponsored by the University of Missouri School of Music and the Sinquefield Charitable Foundation. COMP showcases new, original music from Missouri student composers and songwriters in grades K-12, offering positive recognition, cash prizes, performance and educational opportunities, and more. Since 2006, 345 pieces of music by K-12 Missouri composers have been performed at the Creating Original Music Project Festival concerts.
Dr. Wendy Sims, Director of Undergraduate/Graduate Studies in Music Education at the University of Missouri School of Music, has been involved in the COMP program since it began, and has seen first-hand it's positive impact in developing the creativity of young students in Missouri school music programs from kindergarten through high school.
"The creative process is identified as one of the four key components in the Missouri Fine Arts Standards, which guide the curriculum in Missouri schools," Dr. Sims states. "COMP was designed to identify and reward children who have the interest and willingness to make the effort to create interesting and expressive original songs and instrumental pieces, and the school music teachers who prepare and inspire their students to do so."
Applications to participate in the 2023 COMP Festival will open on Friday, September 30th, 2022, and the final day to submit compositions is January 14, 2023 at 11 pm Central Time. The link to submit applications can be accessed here.
Both the winning composers and their schools will be awarded cash prizes, and the winning compositions will be performed at the Creating Original Music Project's Festival on Saturday, April 22, 2023. Winners in high school are also eligible for scholarships to attend the Missouri Summer Composition Institute, which will take place in June, 2023 on the Mizzou campus.
Students in grades K-5 may submit compositions in two categories, Songs with Words and Instrumental. They are encouraged to write their songs in their preferred language, and are welcome to use Orff instruments, percussion, our other playful elements in their creations.
For grades 6-8, the categories are Notated Music and Popular Genres (including acoustic recordings and produced electronic music). For grades 9-12, the options are  are Notated Music, Popular Genres and Jazz.
All entries must be original music written by the student, and only one entry per student is allowed. Arrangements of previously composed pieces or improvisation based on composed pieces will not be accepted.
Music teachers and/or mentors may assist students in notating or recording the pieces, and each student who applies must have the signature and sponsorship of their school's music teacher.
For complete information about the guidelines and rewards associated with the Creating Original Music Project, or to apply, click here.
For students looking for more guidance or feedback on their work, the Mizzou New Music Initiative also offers Composer Connection, a distance-learning program that gives aspiring composers a chance to talk with and receive instruction from a graduate student in composition at MU.The current composer on call is Mahbod Shriven, who can be reached at msgtd@missouri.edu.
For additional information, contact MNMI managing Director Andrea Luque Káram at Andrea.LuqueKaram@missouri.edu.