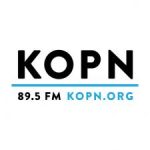 Radio station KOPN 89.5 FM in Columbia, Missouri will broadcast interviews with 2022 Mizzou International Composers Festival Guest Composer Angélica Negrón and Resident Composers Cassie Wieland and Niko Schroeder Thursday evening, July 21st at 7 pm CDT.
Diana Moxon, host of the weekly "Speaking of the Arts" show on KOPN, will interview the three composers to preview the  July 25-30 MICF. If you are not in the Columbia area, you can listen to the broadcast live by clicking here. The program will also be archived at KOPN here.
Puerto Rican-born composer and multi-instrumentalist Angélica Negrón writes music for accordions, robotic instruments, toys, and electronics as well as for chamber ensembles, orchestras, choir, and film. Her music has been described as "wistfully idiosyncratic and contemplative" (WQXR/Q2). The New York Times noted her "capacity to surprise." Negrón has been commissioned by the Bang on a Can All-Stars, Kronos Quartet, loadbang, Prototype Festival, Brooklyn Youth Chorus, Sō Percussion, the Dallas Symphony Orchestra, National Symphony Orchestra, Opera Philadelphia, the Louisville Orchestra, and the New York Botanical Garden, among others.
Cassie Wieland (pronounced ˈkæ-si ˈwee-lənd) is an Illinois-born and Brooklyn-based composer. Praised by The New York Times as "sweetly shimmering," Wieland masterfully experiments with timbre and texture by exploring intimate and fragile sounds to achieve the "hand-made" sound she is often looking for: imperfect, but intentional. The Road to Sound stated, "Wieland's visceral compositions send chills up your spine."
Niko Schroeder holds a Master of Music from the University of Missouri, Columbia, where he worked as an instructor and sound engineer. He was awarded the 2019 Sinquefield Prize, the university's highest honor for a composer. He also holds a Bachelor of Arts from Grand Valley State University, where he won the Glenn A. Niemeyer Award — the highest distinction for student contributions to the university.
This year's Festival will feature nine free events — including five concerts at venues throughout Columbia. In addition, presentations by renowned Guest Composers Meredith Monk and Angélica Negrón  – as well as the eight Resident Composers chosen for the 2022 MICF – are scheduled. All MICF events are free and open to the public. In addition, all concerts will stream live on:
The Monk and Negrón Guest Composer presentations will stream live only on Mizzou New Music Initiative Facebook.
Here's a link to the complete 2022 MICF Schedule.