A concert performance and Resident Composer presentations highlight activities at the 13th annual Mizzou International Composers Festival on  Wednesday, July 27th.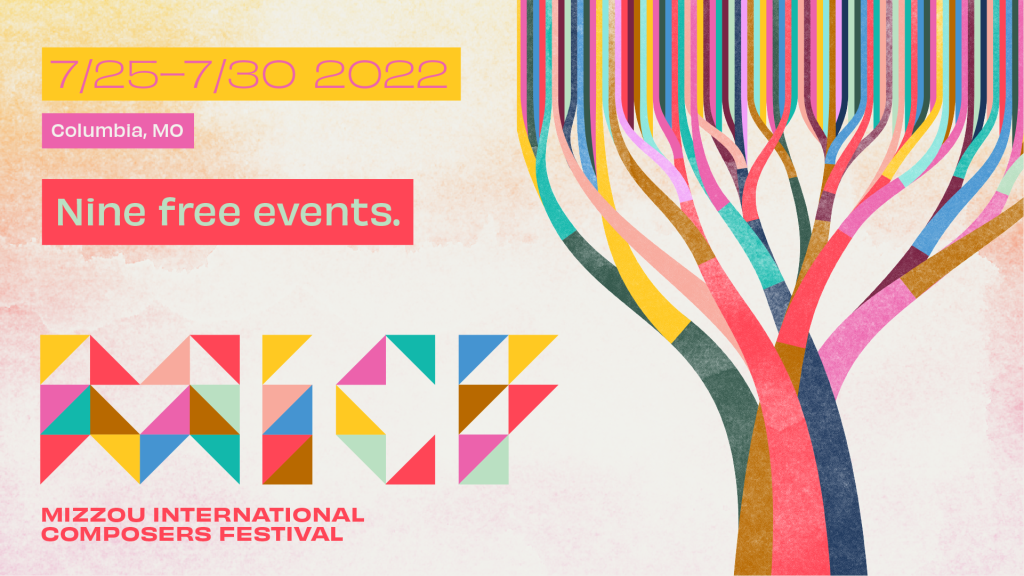 This morning from 10 am – Noon (CDT), presentations by Resident Composers Jia Yi Lee and Felipe Tovar-Henao are scheduled in Room 385 at the Sinquefield Music Center.
Tonight's MICF concert will feature the Mizzou New Music Ensemble performing works by Mizzou student composers Santiago Beis, Emily Shaw, and MICF guest composer Angélica Negrón, as well as a Mizzou Faculty Trio performing Stefan Freund's Triodances (2005) and Don Freund's Triomusic (1980).
Program:
Mizzou New Music Ensemble:
Santiago Beis (b. 1990) Provinciana (2022, Santiago Beis, piano, 10')
Angélica Négron (b. 1981) Conversación a distancia (2020, clarinet, vibraphone, piano/accordion, violin, cello & electronics, 6')
Emily Shaw – The Things I Heard on the Radio * (2021, Emily Shaw, soprano, 6')
Mizzou Faculty Trio:
Stefan Freund (b. 1974) Triodances (2005, 11')
Don Freund (b. 1947) Triomusic (1980, 18')
Here are the musicians performing in this evening's concertL
MIZZOU NEW MUSIC ENSEMBLE
Valentina Arango, flutes
Andrew Wiele, clarinets
Johanny Veiga Barbosa, violin
Andy Lewis, cello
Stephen Landy, percussion
Jordan Nielsen, percussion
Eve Werger, piano and toy piano
Yoshiaki Onishi, director
With guests:
Santiago Beis, piano
Wes Warnhoff, clarinet
Julie Rosenfeld, violin
Peter Miyamoto, piano
Admission to the Wednesday afternoon Resident Composer presentations and the Wednesday evening concert — and to all 2022 MICF events – is free.
The concert will also stream at Mizzou New Music Facebook and MU School of Music YouTube.
For the complete 2022 MICF event schedule, click here.