The winning composers in the 2022 Creating Original Music Project (COMP) have been announced by the Mizzou New Music Initiative. Now in its 17th year, COMP is an annual statewide competition sponsored by the University of Missouri School of Music and the Sinquefield Charitable Foundation. COMP showcases new, original music from Missouri student composers and songwriters in grades K-12, offering positive recognition, prizes, performances, educational opportunities, and more.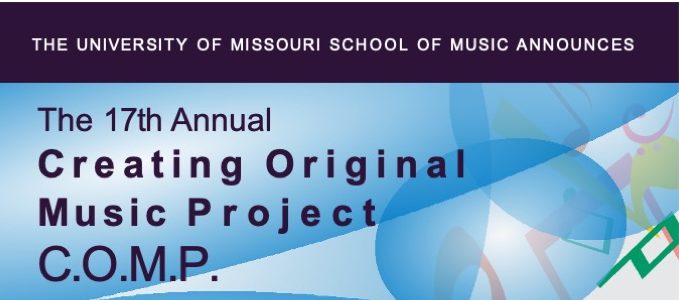 For the competition, students in grades K-5 submit compositions in two categories, Songs With Words and Instrumental. For grades 6-8, the categories are Fine Art Music and Popular Music, and for grades 9-12, the categories are Fine Art Music, Jazz, and Pop Music/Other styles. All entries are required to be original music written by the student, and only one entry per student is allowed. Both notated pieces and music made electronically are eligible. Arrangements of previously composed pieces or improvisation based on composed pieces are not accepted.
Both the winning composers and their schools are awarded cash prizes, and the winning compositions will be performed at the Creating Original Music Project's New Music Festival on Saturday, April 23, 2022 at the University of Missouri in Columbia. The junior division concert, featuring works from elementary and middle school winners of this year's competition, begins at 10:30 a.m., with the senior division concert of music by high school winners following at 3:00 p.m. Since COMP began in 2006, 345 pieces of music by K-12 Missouri composers have been performed.
Winners in high school also are eligible for scholarships to attend the Missouri Summer Composition Institute, which will take place in June 2022 on the Mizzou campus.
The 2022 Creating Original Music Project (COMP) competition categories and winners are:
Elementary Division (K-5): Instrumental Music 
1st  Reichen Bechtel, The Dark Dance, Keysor Elementary, Kirkwood 
2nd  Conrad Crutchley, Raiding the Cookie Jar, Meramec Heights Elementary, Arnold 
3rd  Owen Heimann, Palindrome, Ozark West Elementary School, Ozark
Elementary Division (K-5): Song with Words 
1st  Lacie Reetz, First Snow, Williamsburg Elementary, Williamsburg
2nd  Hannah Reetz, Dancin' Dreams, Williamsburg Elementary, Williamsburg
Middle School Division (6-8): Fine Art Music 
1st  Nathan Crutchley, The Final Sunrise, Ridgewood Middle School, Arnold
2nd  Isabelle Ortis, The Seasons' Song, Christian Fellowship School, Columbia
Teacher: Alexander Siedhoff
Middle School Division (6-8): Pop Music 
1st  Violet Martin, My Papa's Song, North Callaway Middle School, Auxvasse
Teacher: Amanda Furtick
2nd  Madelyn Hazlett, Anything, Everything, Lawson Middle School, Lawson
3rd  Rebecca Ninemire, Hidden Oceans, Hawthorn Hill Elementary, Lee's Summit
High School Division (9-12): Fine Art Music  
1st  Quincy Meyer, The March of the Cornstalks and the Soybean King of Westphalia, East Buchanan High School, Gower
2nd  Yueheng Wang, Fading Mirage, Ladue Horton Watkins High School, St. Louis 
Teacher: David Werfelmann
3rd  Eliot Blackmoore, Variations on a Theme by Bach, Clayton High School, Clayton 
High School Division (9-12): Pop Music 
1st  Jordin MacKenzie, Reckless, Blue Valley North High School, Overland Park
2nd  Lucy Gray Hamilton, Living Through The Night, Park Hill South High School, Riverside 
3rd  Ovya Diwakaran, Monopoly, Ladue Horton Watkins High School, St. Louis 
High School Division (9-12): Jazz Music 
1st  Henry Rusten, Easy Does It, Central High School, Cape Girardeau 
2nd  Yoell Tewolde, None Of It, Rock Bridge High School, Columbia 
Teacher: Patrick Sullivan
3rd  Elliott Bryant, Cafe Morning, Fulton High School, Fulton 
Teacher: Kelly Neudecker
Here are the judges for the 2022 COMP competition:
High School/Middle School Fine Art Music
First Round
María Laura Disandro, MM Composition
Oswald Huỳnh, MM Composition
Kacey Kennedy,  PhD Music Education
Final Round
Takuma Itoh, University of Hawaiʻi at Manoa
Emily Koh, University of Georgia
Jason Carl Rosenberg, Sewanee: The University of the South
High School/Middle School Pop and High School Jazz
Sam Griffith, University of Missouri
Bonnie McLarty, University of Missouri
Elementary Instrumental Music and Elementary Song With Words
Zachary Nenaber, MM Music Education
Jack Snelling, BA Composition
Barry Watson, MM Music Education