The Mizzou New Music Initiative (MNMI) will once again bring the new music group [Switch~ Ensemble] to the University of Missouri Columbia for a residency from Feb. 11 – 16, 2022.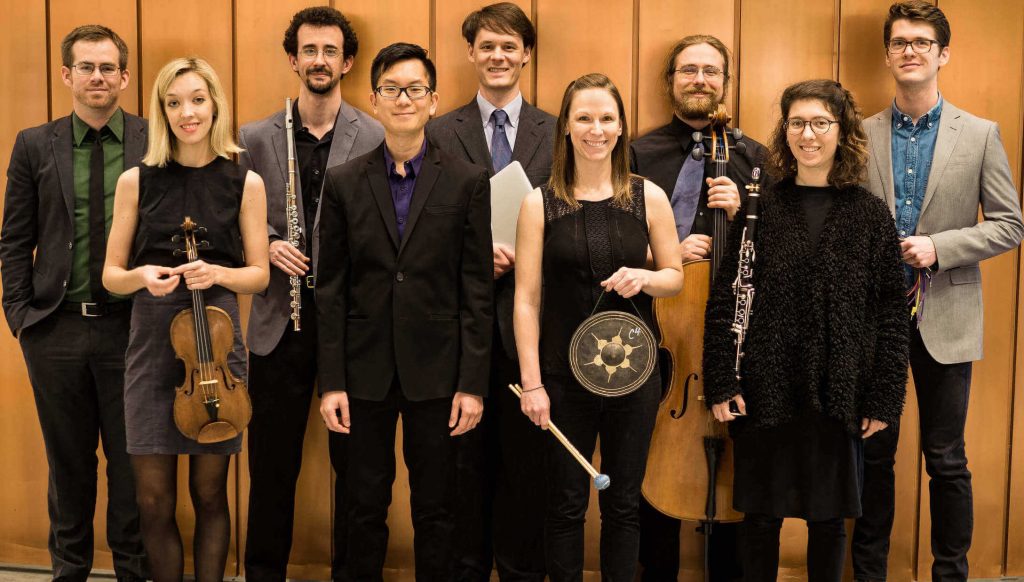 Founded in 2012 at the Eastman School of Music, [Switch~ Ensemble] (pictured) is a group of ten instrumentalists and composers dedicated to performing high-level chamber music integrated with cutting-edge technology and supporting emerging and early career composers.
In addition to a previous virtual residency in the spring of 2021, [Switch~ Ensemble] members have other relationships with MNMI and MU. Mizzou assistant professor Megan Arns is the ensemble's percussionist, and two other members have prior experience at MU. Cellist T.J. Borden did a residency and concert for MNMI in 2019 and Jason Thorpe Buchanan, the ensemble's artistic director, was a resident composer at the 2013 Mizzou International Composers Festival (MICF).
[Switch~ Ensemble]'s residency begins on Friday, Feb. 11th at 3 pm with a virtual presentation in Composition Seminar. On Sunday, Feb. 13th at 2 pm, the Ensemble will perform a free concert at the George Caleb Bingham Gallery presenting the following program:
On Monday, Feb. 14th, the Ensemble will guest coach the Mizzou New Music Ensemble at 10:15 am. A second free concert will take place on Tuesday, Feb. 15th at 7:30 pm in Sheryl Crow Hall at the Sinquefield Music Center featuring the following program:
The works in the program by Huynh and Bezerra were written for and premiered by Switch during their virtual residency at Mizzou in 2021. These works were initially recorded telematically. Both works will be performed in a traditional "live" setting on Feb. 15.
In addition to Arns, Borden, and Buchanan, the other members of [Switch~ Ensemble] are Lauren Cauley, violin; Christopher Chandler, composer and sound engineer; Matt Evans, saxophones; Madison Greenstone, clarinets; Clay Mettens, managing director, composer and sound engineer; Zach Sheets, composer and flutes; and Wei-Han Wu, piano.
In keeping with their mission statement, [Switch~ Ensemble] has collaborated with both emerging and established composers, performing commissions and premieres of dozens of new works. Upcoming engagements include recent world premieres of commissioned works by Leilehua "Anne" Lanzilotti, and Katharina Rosenberger, and world premiers of works by Anna-Louise Walton, Forbes Graham and Kelly Sheehan, supported by New Music USA, the Ernst von Siemens Musikstiftung, Pro Helvetia, the MAP Fund, Boston Lab and more.