The Mizzou New Music Initiative's The Sound of Art series continues on Tuesday, January 25th, 2022 at 7:30 pm CST with three performances by the Mizzou New Music Ensemble on the Mizzou New Music Facebook page and the University of Missouri School of Music YouTube channel. The Sound of Art series began in 2010 with the concept of documenting collaborative efforts between composers and visual artists, featuring original compositions inspired by the art and performed by the NME.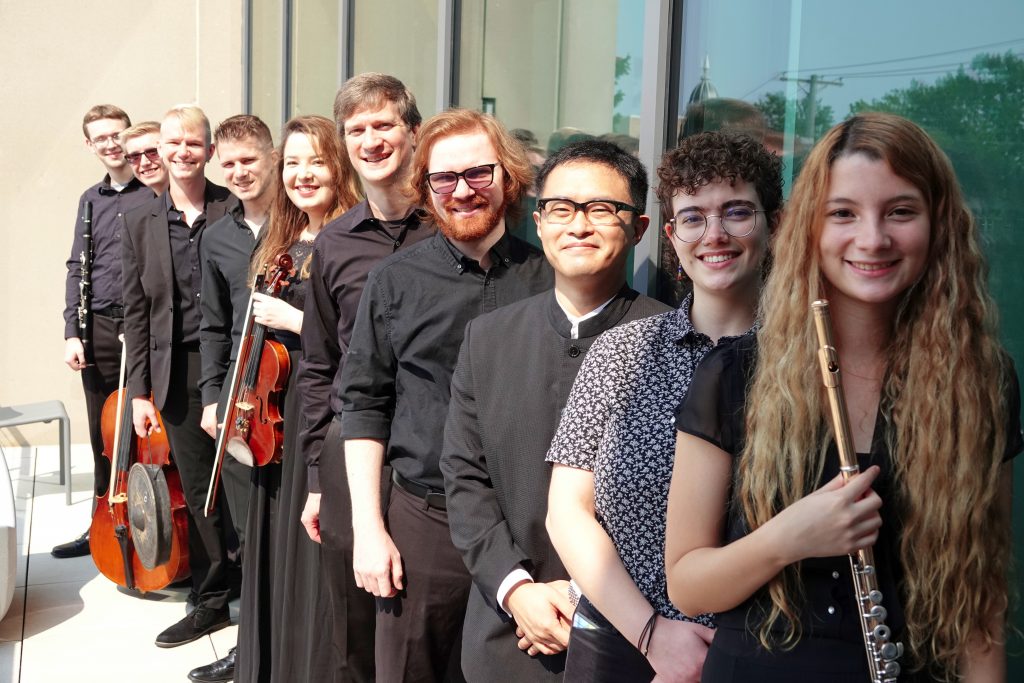 Members of the 2021-22 Mizzou New Music Ensemble with Artistic Director Yoshiaki Onishi (third from right) and Stefan Freund, Artistic Director of MNMI (fifth from right).
For the Jan. 25th performance, three videos featuring the NME (pictured) performing works by Mizzou student composers will be paired with visuals of art works from the collection of the 
Amon Carter Museum of American Art.
The NME was originally scheduled to travel to Fort Worth to perform a live concert at the Amon Carter Museum in 2020, but COVID protocols postponed the event. Instead, the Ensemble videotaped three works by Mizzou composers, which were inspired by images from the Amon Carter's collection.
Here are the composers, titles, and images for each of the three works:
Isabelle Borchardt, Contemporary American Creativity. Image: Gabriel Dawe's Plexus no. 34(2016)
Ben Dawson, The Hunter's Dream. Images:

Thomas Cole, The Hunter's Return(1845)
Albert Bierstadt, Sunrise, Yosemite Valley(c. 1870)

Sam Whitty, Views from Above. Images by Alexander Calder, Stuart Davis, Arthur Dove, Marsden Hartley, and Georgia O'Keeffe.
The Mizzou New Music Ensemble is made up of University of Missouri graduate students under the direction of Mizzou New Music Initiative Postdoctoral Fellow Yoshiaki Onishi, who is also the Ensemble's Artistic Director. The members of the 2021-22 Mizzou New Music Ensemble are: Valentina Arango Sánchez, flute; Andrew Wiele, clarinet; Johanny Veiga Barbosa, violin; Andy Lewis, violoncello; Jordan Nielsen, percussion; Stephen Landy, percussion; Eve Werger, piano and Daniel Fitzpatrick, piano.
Located in the heart of Fort Worth's Cultural District, the Amon Carter Museum of American Art (the Carter) is a dynamic cultural resource that provides unique access and insight into the history and future of American creativity through its expansive exhibitions and programming. The Carter's preeminent collection includes masterworks by legendary American artists such as Ruth Asawa, Alexander Calder, Frederic Church, Stuart Davis, Robert Duncanson, Thomas Eakins, Georgia O'Keeffe, Jacob Lawrence, and John Singer Sargent, as well as one of the country's foremost repositories of American photography. In addition to its innovative exhibition program and engagement with artists working today, the Museum's premier primary research collection and leading conservation program make it a must-see destination for art lovers and scholars of all ages nationwide. Admission is always free. To learn more about the Carter, visit cartermuseum.org.