The Mizzou New Music Ensemble will continue its 2021-22 performance series with a live concert scheduled for 7:30 pm on Sunday, December 5, 2021. The performance will take place on the University of Missouri Campus at the Sinquefield Music Center (SMC 132). The concert is free and open to the public. For those unable to attend in person, the concert will be live-streamed on the University of Missouri School of Music YouTube channel.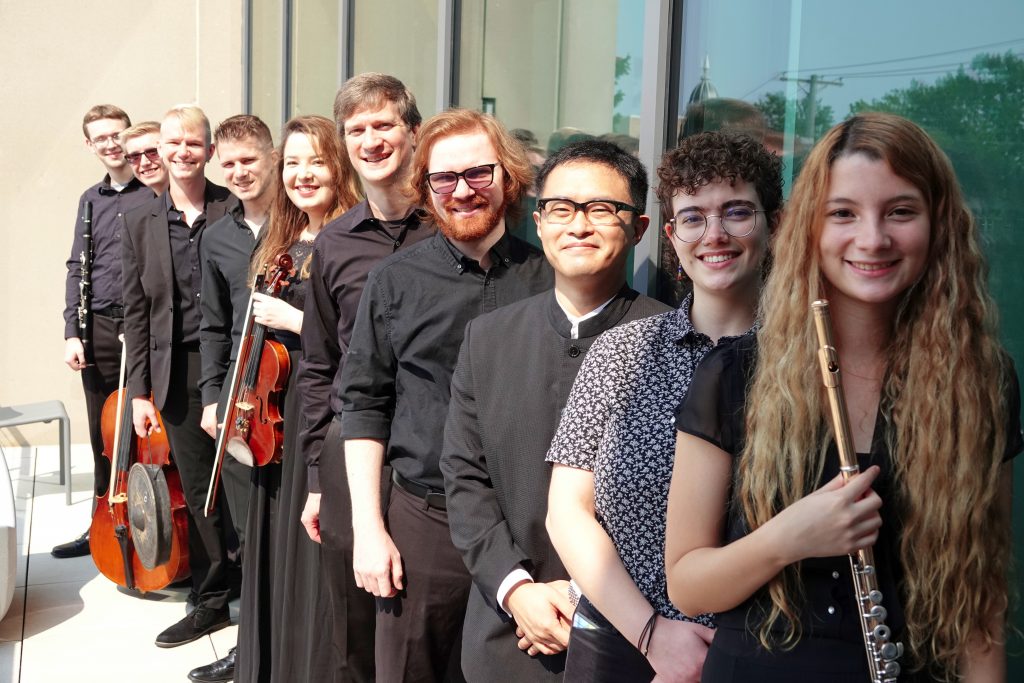 For their second concert of the 2021-22 season, the Ensemble (pictured) will present a program linked to its October 10th opening concert. Once again, the program will open with a world premiere of a composition by a University of Missouri student. For this concert, NME will perform Reconstruct by Kyle Yerby, a sophomore Sinquefield scholar composer from St. Louis studying composition at the University of Missouri. The Ensemble will then play two pieces written by composers from Córdoba, Argentina, the hometown of Carolina Heredia, Assistant Professor of Music Composition at the University of Missouri, and the Assistant Director of the Mizzou New Music Initiative (MNMI). 
These works are part of a collaborative program between Universidad Nacional de Córdoba and the MNMI that began with performances of works by Cordoba-based composers at the October MNME concert. For this event, Sonos, composed by Rosario Serafin, a native of Córdoba with a Bachelor of Arts degree in Music Composition from the Universidad Nacional de Córdoba, will be premiered before intermission. NME will then premiere Desdoblar una grulla de papel y descubrir con sopresa que tiene un esqueleto, composed by Pedro Antonio Sota Taier, another composer and musician based in Córdoba.
To conclude the concert, the New Music Ensemble will perform movements II and III of Come Round by prominent American composer Jacob Druckman. The first movement of Come Round was performed at the October 10th concert.
The Mizzou New Music Ensemble is made up of University of Missouri School of Music graduate students under the direction of Mizzou New Music Initiative Postdoctoral Fellow Yoshiaki Onishi, who was recently appointed as the Ensemble's Artistic Director.
The members of the 2021-22 Mizzou New Music Ensemble are Valentina Arango, flutes; Andrew Wiele, clarinets; Johanny Veiga Barbosa, violin; Andy Lewis, cello; Jordan Nielsen, percussion; Stephen Landy, percussion; Eve Werger, piano and Daniel Fitzpatrick, piano.