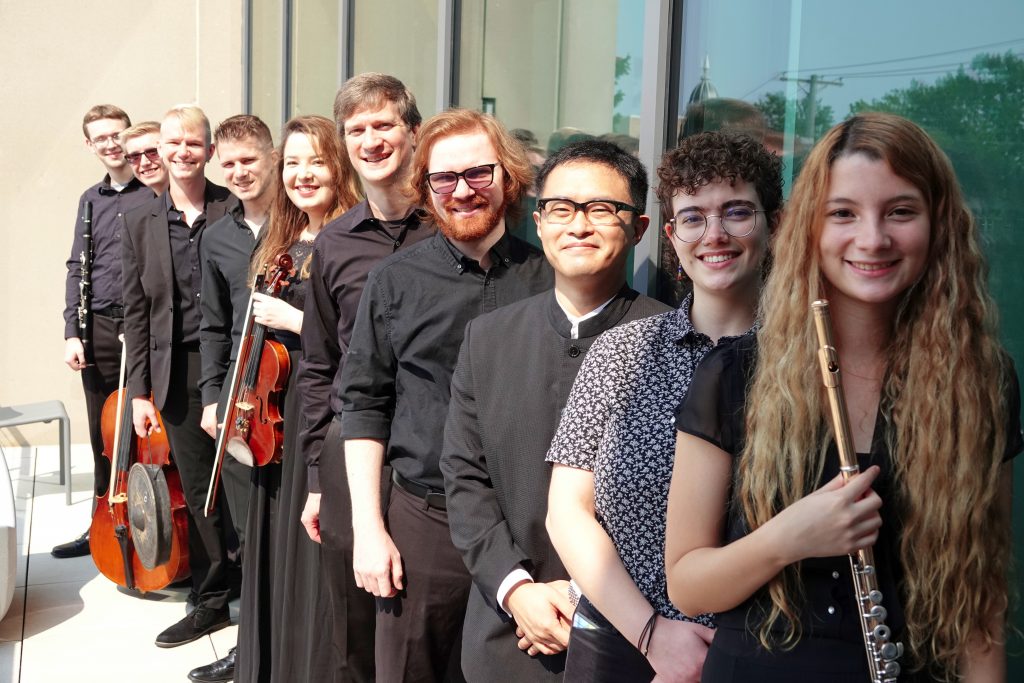 For the first time since March, 2020, the Mizzou New Music Ensemble will perform in front of a live audience! The concert is scheduled for 7:30 pm on Sunday, Oct. 10, 2021, and will take place on the University of Missouri Campus at the Sinquefield Music Center (SMC 132). The concert is free and open to the public. For those unable to attend in person, the concert will be livestreamed on the MNMI Facebook Page and the University of Missouri School of Music YouTube channel.
For their first concert of 2021-22 season, the Ensemble (pictured) will open the program with a performance of The Quarry by Robyne Sieh, a second-year undergraduate composer from St. Louis studying at the University of Missouri. The Ensemble will also play Ngelemen by Fernando Zappino Vidal and Matutino/vespertino by fellow Argentinian Ernesto Bojanich Zahnd — both composers at the Universidad Nacional de Córdoba, hometown of Carolina Heredia, Assistant Professor of Music Composition at the University of Missouri, and the Assistant Director of the Mizzou New Music Initiative (MNMI).

These works are part of a collaborative program between Universidad Nacional de Córdoba and the MNMI that will continue with performances of additional works by Cordoba-based composers at the December 5th concert by the Mizzou New Music Ensemble. The first movement of Come Round by prominent American composer Jacob Druckman, will conclude the performance.
The Mizzou New Music Ensemble is made up of University of Missouri School of Music graduate students under the direction of Mizzou New Music Initiative Postdoctoral Fellow Yoshiaki Onishi, who was recently appointed as the Ensemble's Artistic Director.
The members of the 2021-22 Mizzou New Music Ensemble are: Valentina Arango Sánchez, flute; Andrew Wiele, clarinet; Johanny Veiga Barbosa, violin; Andy Lewis, violoncello; Jordan Nielsen, percussion; Stephen Landy, percussion; Eve Werger, piano and Daniel Fitzpatrick, piano.
PLEASE NOTE: Temporary mask requirements on campus have been extended through Oct. 15. All students, faculty, staff and visitors — regardless of vaccination status — are required to wear masks in classrooms, while entering and exiting classrooms, as well as other meeting spaces where social distancing is not possible.