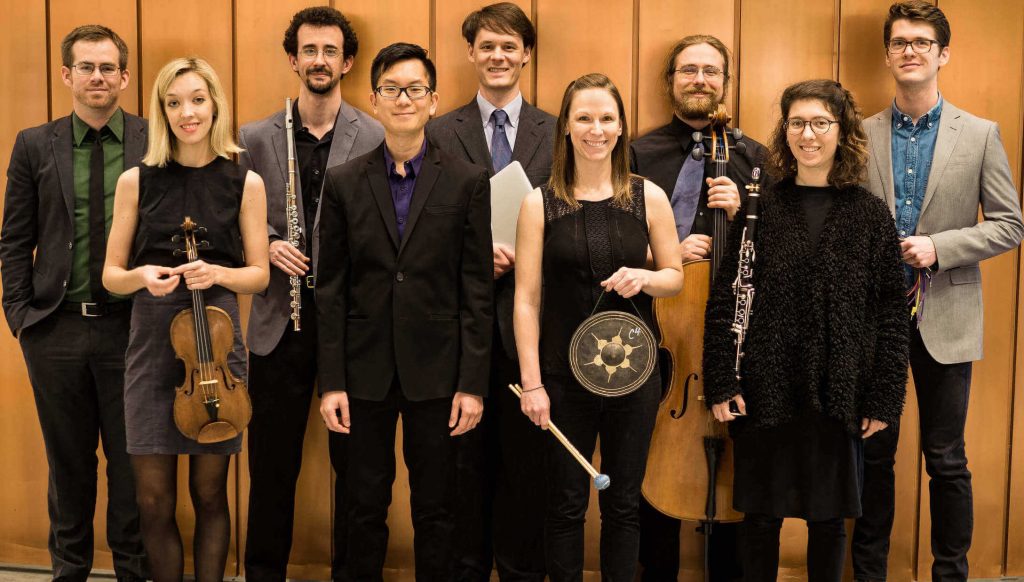 The new music group [Switch~ Ensemble] will do a "virtual residency" this spring for the Mizzou New Music Initiative, culminating in a online concert featuring works by Mizzou student composers.
The concert at 8:30 p.m. on Sunday, May 2 will include new works by Mizzou's Santiago Beis, Luis Bezerra, and Oswald Huynh, as well as music by Chris Chandler and Zachary James Watkins. The performance will be available to view on the University of Missouri School of Music's YouTube channel and on the Mizzou New Music Facebook page.
The [Switch~ Ensemble] residency also will include a presentation to the School of Music's convocation on entrepreneurship for musicians, plus presentations to the School's composition seminar and "introduction to electronic music" class.
Founded in 2012 at the Eastman School of Music, [Switch~ Ensemble] (pictured) is a group of ten instrumentalists and composers dedicated to performing high-level chamber music integrated with cutting-edge technology and supporting emerging and early career composers.
Mizzou assistant professor Megan Arns is their percussionist, and there are two other members who have some prior experience at MU: cellist T.J. Borden, who did a residency and concert for MNMI in 2019, and Jason Thorpe Buchanan, the ensemble's artistic director, who was a resident composer at the 2013 Mizzou International Composers Festival.
Other members of [Switch~ Ensemble] are Lauren Cauley, violin; Christopher Chandler, composer and sound engineer; Matt Evans, saxophones; Madison Greenstone, clarinets; Clay Mettens, director of development, composer and sound engineer; Zach Sheets, composer, flutes, and managing director; and Wei-Han Wu, piano..
In keeping with their mission statement, [Switch~ Ensemble] has collaborated with both emerging and established composers, performing commissions and premieres of dozens of new works. Upcoming engagements include world premieres of commissioned works by Anne Leilehua Lanzilotti, Katharina Rosenberger, Anna-Louise Walton, and Kelly Sheehan, supported by New Music USA, the Ernst von Siemens Musikstiftung, Pro Helvetia, the MAP Fund, and more.
Past performances and residencies include Cornell, Bard College, University of Chicago, Ithaca College, Harvard University Group for New Music, UC Berkeley, the VIPA Festival (Spain), Eastman School of Music, Frost School of Music at University of Miami, and Avaloch Farms Music Institute, as well as concerts at the Image/Sound Festival, San Francisco Center for New Music, MATA Interval Series, NYCEMF, Vanguard New Music Series at Kent State University, the Queens New Music Festival, and more.