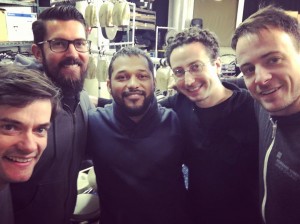 When Third Coast Percussion visits the University of Missouri next week, not only will they be coming directly from the Grammy Awards, they'll actually be bringing a bit of Mizzou along with them.
The Chicago-based group is nominated for a Grammy this year in the category of "Best Chamber Music/ Small Ensemble Performance" for their album Steve Reich, and they'll also be performing at the Grammy "Premiere Ceremony" hosted by comedian Margaret Cho before the nationally televised portion of the awards gets underway on Sunday, February 12 at the Microsoft Theater in Los Angeles.
When they get to Columbia the next day, the four members of TCP will be looking at a busy schedule, culminating in a concert on Friday, February 17 at the Missouri Theatre, but also including various other activities throughout the week, most notably a workshop presentation of a new piece they recently commissioned from a Mizzou alumnus.
José Martínez, who earned his master's degree in composition from Mizzou in 2016, was selected by Third Coast Percussion to participate in their Emerging Composers Partnership for the 2016-17 season.
Now pursuing doctoral studies at the University of Texas, Martínez during his time in Columbia was the percussionist for the Mizzou New Music Ensemble; a resident composer at the 2014 Mizzou International Composers Festival; and the winner of the 2013 Sinquefield Composition Prize, the University's highest honor for a composition student.
After being chosen by Third Coast Percussion for this year's Emerging Composers Partnership, he took part in a series of workshops with the group as a prelude to writing a new piece to be premiered in a concert this spring in Chicago.
That commissioned composition, "Two Questions About Time," will get its first official performance on Sunday, May 28 at the Chicago venue Constellation, but Mizzou students and curious Columbia listeners will be able to hear how it's shaping up in a public open workshop session with TCP and Martínez from 10:00 a.m to noon on Thursday, February 16 in Room 112 of Loeb Hall.
Third Coast Percussion's residency also will include a performance for students at Lee Elementary School and a masterclass with the MU Percussion Studio on Tuesday, February 14; a joint public performance of Terry Riley's "In C" with the Mizzou New Music Ensemble at 2:00 p.m. Wednesday, February 15 at the Student Center; and a reading session of new music by Mizzou student composers Jake Smucker, Trey Makler, and Aaron Mencher at 7:00 p.m. Thursday, February 16 at Whitmore Recital Hall.
Though TCP won't be playing Martínez' new work at their concert on Friday, the program nevertheless will have another connection to the Mizzou New Music Initiative, as it will include music by two former distinguished guest composers at the Mizzou International Composers Festival.
The group will play "Resounding Earth, mvt. 2, Prayer," written by Augusta Read Thomas, who was a guest at the 2014 MICF; and "Surface Tension," by Donnacha Dennehy, who took part in the 2012 festival. Steve Reich's 2009 "Mallet Quartet" and Glenn Kotche's "Wild Sound, part 4," written in 2014, will complete the evening.
Photo of José Martínez (center) with Third Coast Percussion via https://www.instagram.com/thirdcoastpercussion/.