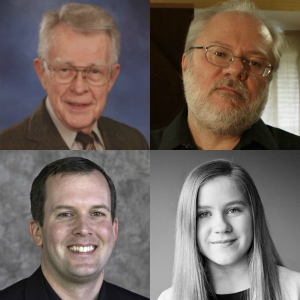 The Mizzou New Music Initiative (MNMI) offers a variety of programs supporting composers throughout their careers, and the results of this year's Missouri Composers Project (MOCOP) competition are a particularly vivid demonstration of MNMI's generational and geographic reach, with the four winning works coming from composers living across the state who range in age from 14 to 85.
Now in its sixth year, MOCOP is a collaborative effort involving MNMI, the Columbia Civic Orchestra (CCO), the Columbia Chamber Choir, and the Sinquefield Charitable Foundation. Composers from throughout Missouri are invited each year to submit orchestral and choral works for potential performance, with winners selected in two age categories, "open" and "high school."
All four winners of the 2017 competition will receive a $500 honorarium from the Sinquefield Charitable Foundation, and the CCO and the Chamber Choir will perform their compositions in a concert at 7:30 p.m. Sunday, March 19 at Broadway Christian Church, 2601 West Broadway in Columbia. Admission to the concert is free and open to the public.
"Crucifixus," one of two choral works chosen this year, was composed by William Hooper, an 85-year-old retired music educator and senior adult pastor at First Baptist Church in Bolivar, MO. Hooper is a graduate of Southwest Baptist College, William Jewell College, University of Iowa, and the George Peabody College of Vanderbilt University, and the author of seven books about various aspects of music in worship.
"Dangerously Slick" was written by Robert Fruehwald, and is one of two orchestral works selected for the 2017 program. Fruehwald, 59, is a teacher of music theory, piano and composition and former chair of the music department at Southeast Missouri State University in Cape Girardeau, MO. He earned his bachelor's degree in music at the University of Louisville, an M.F.A. degree at the California Institute of the Arts, and a Ph.D. at Washington University in St. Louis.
The second choral winner this year is "Land of Nod" by Zachary Cairns, who is 38 years old and an associate professor of music theory and composition at the University of Missouri – St. Louis. Cairns earned his Ph.D. from the Eastman School of Music and M.A. and B.S. degrees from Pennsylvania State University. He previously was a MOCOP winner in 2015 for his orchestral work "Refracted Moonlight."
This year's winning entry from a high school composer is "The Hare," an orchestral work by Olivia Bennett, a 14-year-old home-schooled freshman from Nixa, MO. Bennett was the winner of a first place award in the "Middle School- Fine Art" category of MNMI's 2016 Creating Original Music Project (COMP) competition for Missouri students in grades K-12, and previously won third place in the "Elementary – Instrumental" in the 2012 COMP competition.